Prawn casserole with olives from Spain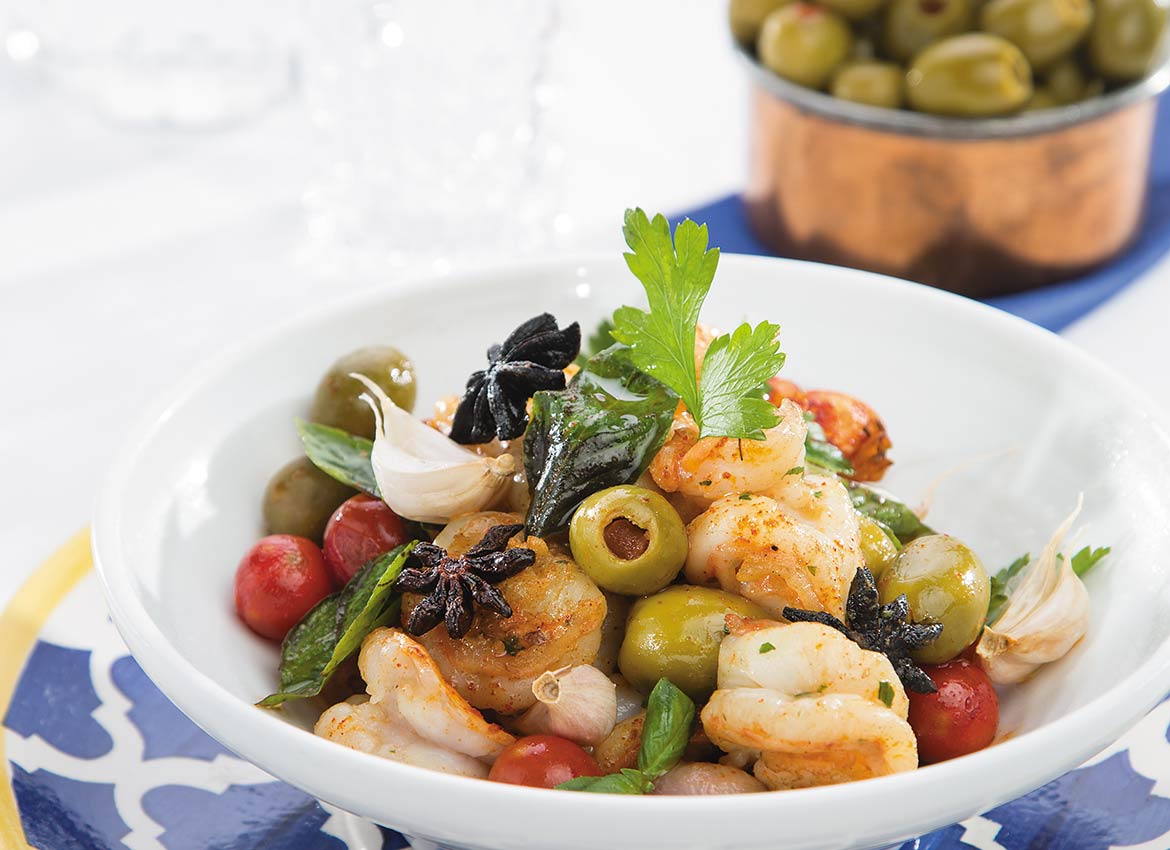 INGREDIENTS
FOR THE TOMATO BROTH

500 g Tomatoes
20 g Coriander
3 pc Garlic cloves
5 g Hing (asafoetida)
1 pc Bay leaf
Salt and pepper to taste

FOR THE DISH

25 pcs (90 g) Green OLIVES FROM SPAIN
100 ml Tomato broth
90 g Prawns
5 pcs Cherry tomatoes
5 pcs sprig Roast garlic cloves
5 pcs Roast baby onion
1 sprig Rosemary
5 leaves Basil
30 g Feta
1 pc Star anise
1 pc Green chilli
1 pc Red chilli
10 g Ginger julienne
10 ml Red wine vinegar
30 ml Olive oil
Fresh parsley to garnish
Preparation time:
30 minutes
Level of difficulty:
Medium
PREPARATION
TOMATO BROTH
Put all ingredients in a deep bottomed pan and cook till the mix starts to boil.
Once it starts to boil, reduce the flame and simmer till the tomatoes leave their juice.
Strain and use.
THE DISH
Preheat the oven at 180ºC.
Heat oil in a pan and add the prawns, rosemary and sauté.
Add the vinegar and deglaze.
Add the garlic, onions and cherry tomatoes, green chilli and ginger. Add the tomato broth and simmer on low heat.
Pour the dish into the tawa and bake in the oven along with the feta and pimento stuffed olives until the prawns are cooked.
In a pan, shallow fry the red chilli for few minutes.
Serve the dish garnished with parsley, chilli oil and the fried red chilli.