Portobello mushroom with olives and cauliflower cous cous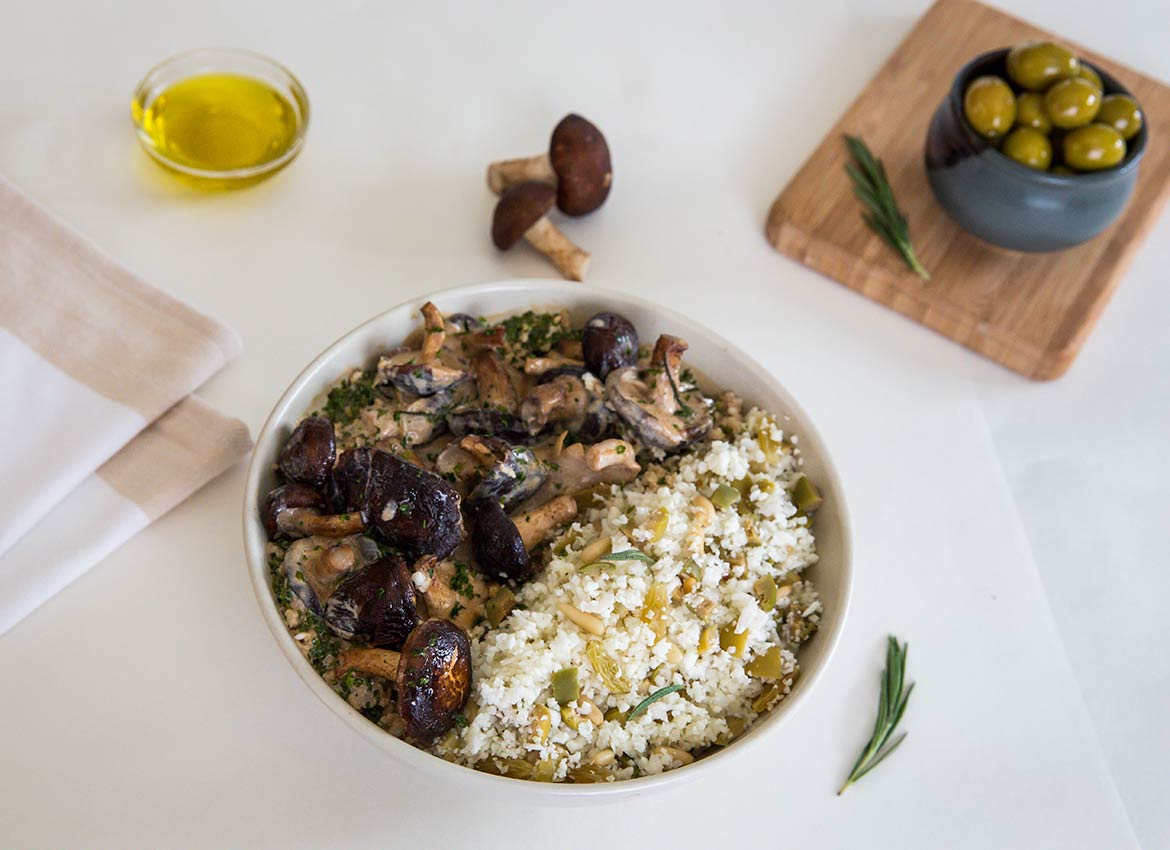 INGREDIENTS
CAULIFLOWER COUSCOUS

200 g Cauliflower florets
10 pcs Green OLIVES FROM SPAIN
2 tbsp Raisins soaked in warm water for 10 mins
2 tbsp Pine nuts

CREAMY MUSHROOMS

150 g Assorted wild mushrooms, cleaned
2 Large Portobello mushrooms, wiped clean
100 ml Thick cream
75 g Butter
1 tbsp Chopped fresh rosemary
1 tbsp Red wine vinegar
2 tsp Soy sauce
2 tbsp Chopped fresh parsley
Preparation time:
30 minutes
Level of difficulty:
Medium
PREPARATION
For the couscous put the cauliflower in a mixer and pulse until it is very finely minced. Tip it into a sieve and steam it for 5 minutes, or until tender.
Transfer the cauliflower to a large bowl and mix in the olives, raisins, and pine nuts. Season to taste with salt and pepper.
Preheat the grill to 200C. To make the creamy mushrooms, grill the Portobello mushrooms with some olive oil and butter. Cool them down and slice.
In a frying pan, add butter and heat until it turns brown colour. Add the mushrooms and rosemary and cook until the mushrooms are tender.
Add the Portobello mushrooms and cream. Simmer until the cream is reduced and thickened, then take it off heat and stir in the vinegar and soy sauce.
Simmer further until the cream just coats the mushrooms. Sprinkle in some of the chopped parsley.
Serve them together!